Responding to diverse data needs for real estate appraisal
Daiwa Real Estate Appraisal Co., Ltd.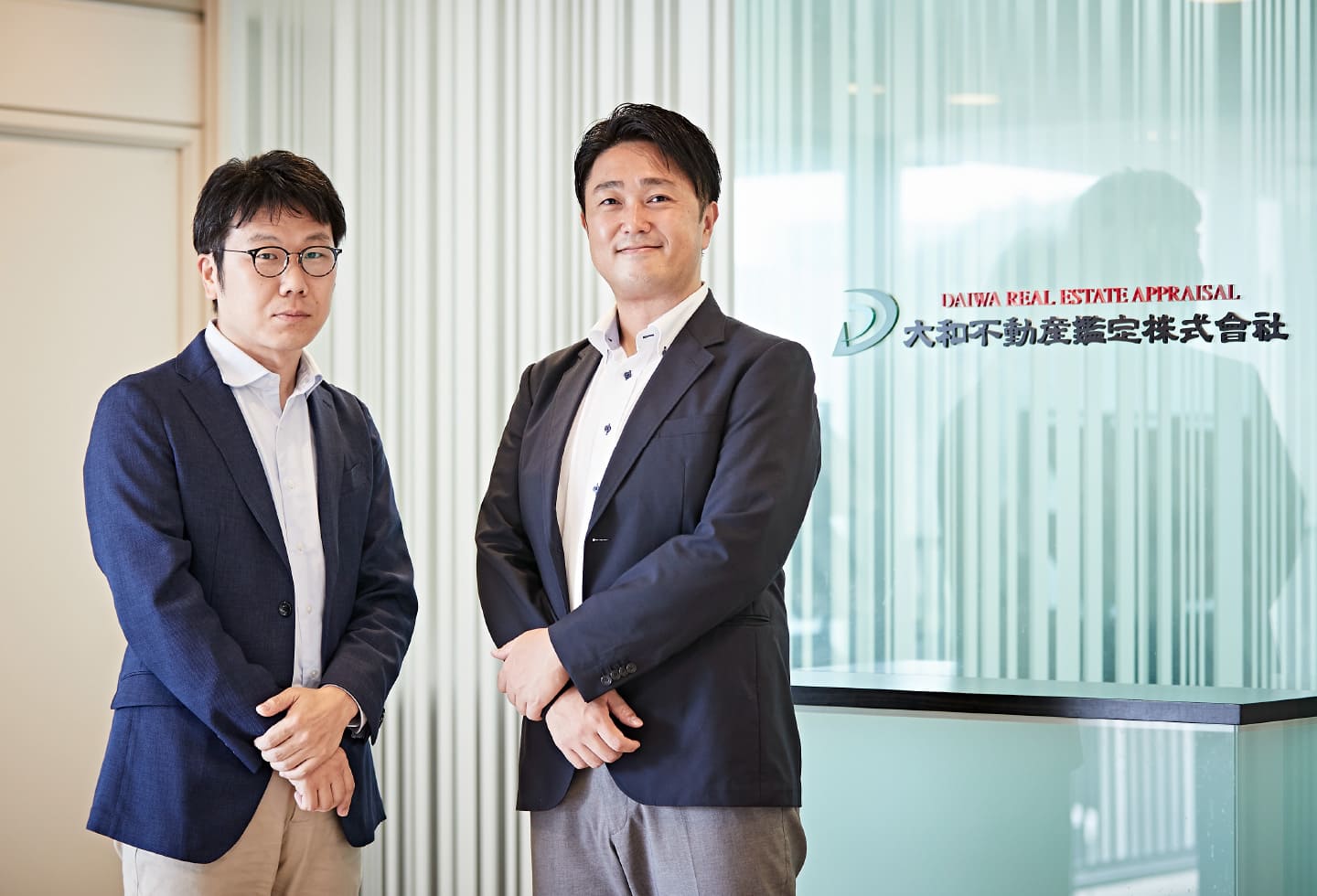 A comprehensive real estate consulting firm that has been in business for 55 years. With appraisal business as its core business, the firm has also developed a wide range of other businesses, from construction to accurately responding to the diversifying needs of its clients. The firm boasts the second largest share of the real estate appraisal market in Japan and is actively expanding its business overseas, including the establishment of local subsidiaries in Singapore and Thailand.
Executive Officer, General Manager, Business Development Department Real Estate Appraiser
Mr. Eiji Ikura
(left)
Real Estate Appraiser Business Promotion Department
Mr. Takashi Murao
(right)
Real estate valuations change from time to time, and REMETIS is becoming increasingly present in the world of real estate appraisal as an essential tool to precisely analyze the profitability and comfortability of buildings and land now. We interviewed the two people who spearheaded the introduction of REMETIS in the appraisal division of Daiwa Real Estate Appraisal Co. They talked about the background of the introduction and the benefits and effects they actually experienced.
Problem
・The existing system with an old interface was difficult to understand and the map search function had become obsolete.
・The above hindered the smooth progress of the business.
Solution
∙ Intuitive interface streamlines data checking
∙ Easy-to-use map search function improves survey accuracy.
∙ Flexible customization covering a wide variety of data, including REITs, provides total backup for appraisal operations.
What were some of the business challenges you faced prior to implementing REMETIS?
Ikura
Our Appraisal Department has a total of over 100 real estate appraisers. We appraise between 7,000 and 8,000 properties per year. Our main task is to calculate the economic value of real estate by comprehensively analyzing surrounding geographical conditions, laws and regulations, and cutting-edge market information, and compiling the results into a report. Since many cases take time to evaluate, such as court cases involving disputes over rent, it is extremely important to be able to access a variety of data efficiently. However, like other companies in the real estate industry, we were behind in the use of IT and data, and did not have an adequate environment for this purpose.
Murao
For 10 years prior to implementing REMETIS, we had been using an existing data service system customized to our specifications.
Ikura
Although the previous system had a map search function, it was difficult to understand how to operate it, so users ended up using text-based searches. For example, when looking up yields in the surrounding area, we originally wanted to search the map by place name to get the most accurate information possible, but the poor usability of the system prevented us from doing so.
Murao
We also have an internal system to manage our data, but plotting various data points on a map made the system heavy, and the busier we were, the more stressed we felt.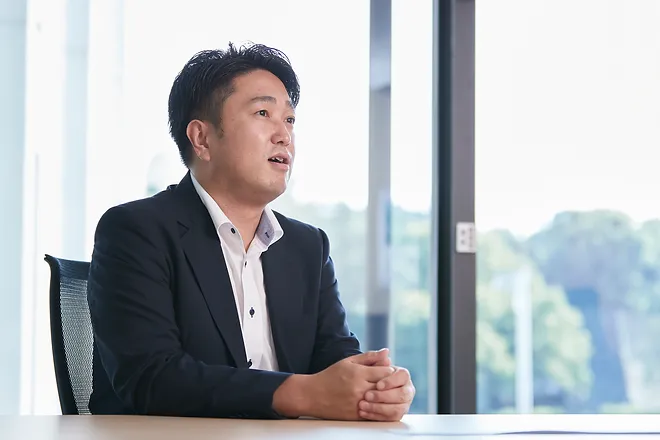 How did you come to consider introducing REMETIS?
Ikura
In order to resolve the issue of poor IT and data merging, we have been promoting a project to study the use of AI within our company for the last three to four years. Through discussions and interactions with various companies, we came to know about REMETIS, which has excellent usability. The search function on the map is easy to use and the data it handles is extensive, so we thought it was a service that exactly matched our needs.
Murao
REMETIS clearly indicates the data source for use in the report, giving the impression that the service is grounded and provides evidence of the work we are doing.
What were your requests when introducing REMETIS?
Murao
Before officially deciding to implement REMETIS, we first established a trial period. We wanted to confirm the compatibility with our business needs by actually using the service.
Ikura
After conducting a trial test, we gathered opinions from within the company and gave them back to RESTAR. We were very satisfied with the usability of the system, but in order to introduce REMETIS in a form more suited to our needs, we requested improvements such as adding data that only professionals such as appraisers could see, such as DR and TCR, as well as land price data and road price data, in addition to REIT-related information figures. We received a prompt response.
Murao
They responded sincerely to each of our highly specialized requests and feedback, and we were impressed by their high degree of flexibility as a service. Because of this, we were convinced that RESTAR is a company we can work with in the future as a partner.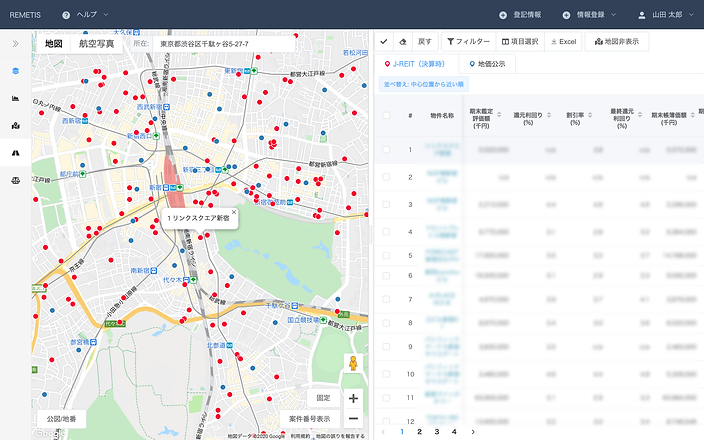 What were the benefits of actually implementing REMETIS?
Ikura
Basically, we focus mainly on applications for researching REIT data, but it also greatly supports our overall consulting work by helping us research yield cases when we prepare reports on J-REITs and real estate funds, which are our main clients.
Murao
Since the information in the database is tied to disclosure documents such as securities reports, the process of checking and cross-checking information resources has become much more efficient.
Ikura
The maps are very crisp and the overall feel of the system is not heavy, which I really appreciate. It has definitely shortened the amount of work that must be done when performing appraisal work and I think it has led to increased productivity. Since we can access all the data we want to look up at once, I think REMETIS will be a great help during busy periods when we are required to evaluate a large number of properties. We introduced REMETIS in the appraisal department this time, but in the future we are considering using it throughout the company, including other departments.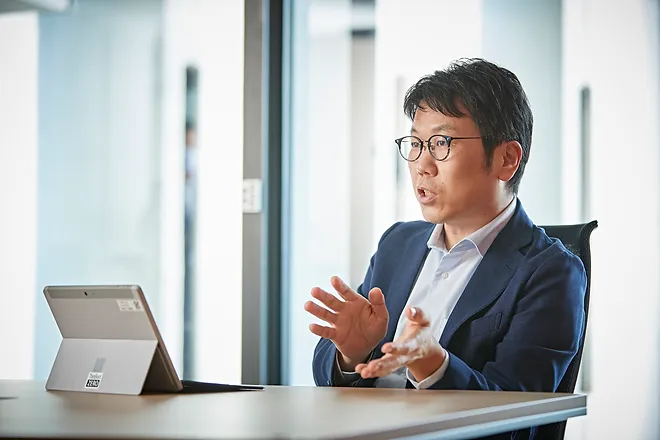 Could you tell us about your expectations for our company in the future, or what you would like to achieve with REMETIS?
Ikura
One of the issues in the appraisal industry, including our company, is that data is not well maintained and is not incorporated into maps. Therefore, our future challenge is to use REMETIS to make the data easily understandable on a map and then make past valuation data available on the map. We would also like to put our real estate data on REMETIS. If we can provide our database, we will be able to compare our data with the data provided by REMETIS, which we believe will improve the efficiency of our internal operations. Furthermore, we are currently promoting a paperless work environment, and if we can use REMETIS to instantly reference J-REIT data, etc., we will be able to move forward with the paperless environment in a big way and at the same time contribute to improving the quality of remote work, which is expected to expand further in the future.
 
We hope to work with RESTAR to support our company in introducing new services ahead of others, and at the same time, we hope to work together to create new products and services that will please our clients and support all aspects of real estate consulting, while bringing together our mutual strengths. We are looking forward to working more with RESTAR in the future.