Realize quick and accurate business feasibility decisions
Shimizu Corporation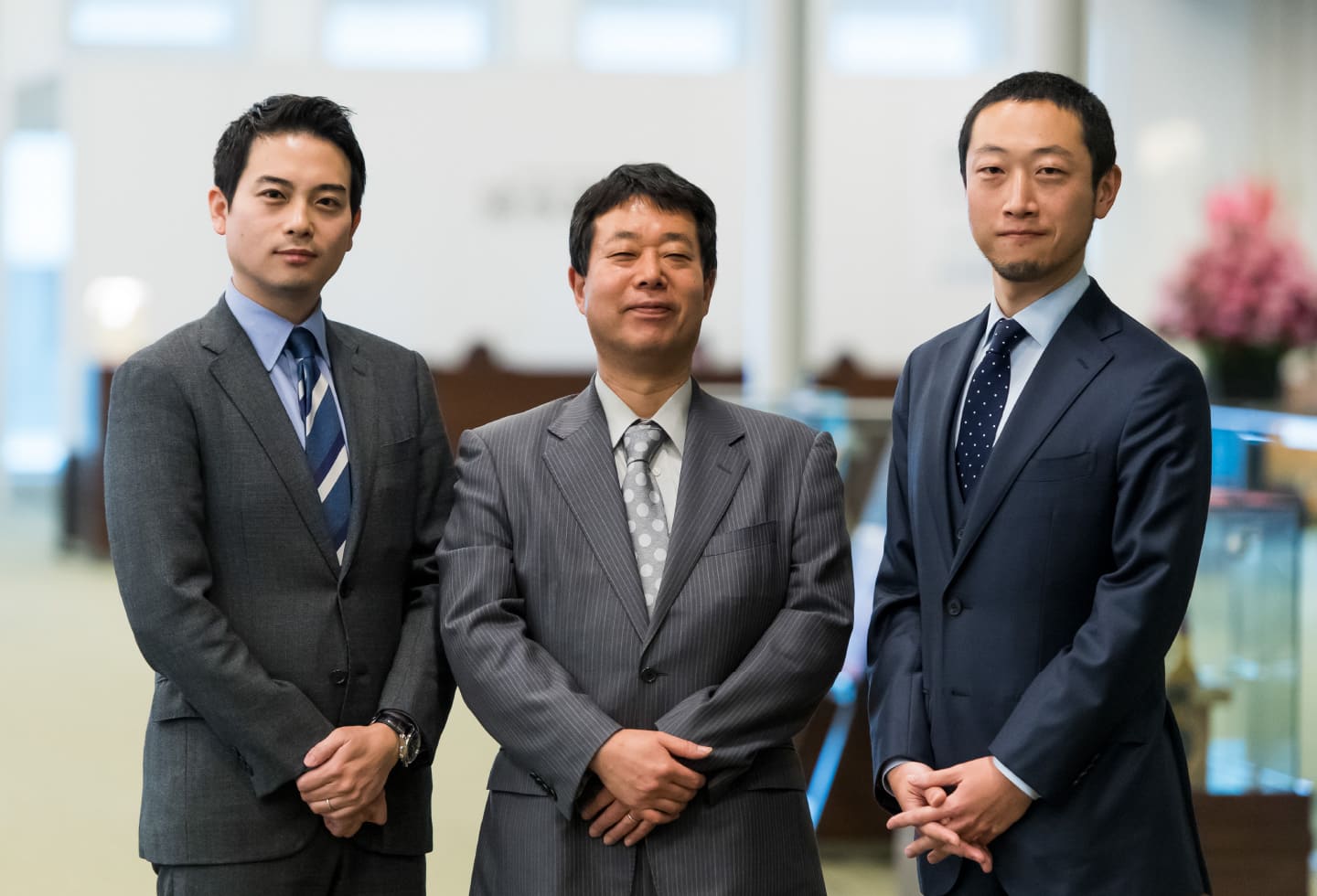 Shimizu Corporation is a major general construction company with over 200 years of history. Since its founding in Kanda Kaji-cho, Edo, by Kisuke Shimizu I, a carpenter from Ecchu-Toyama, Shimizu Corporation has always led the construction industry in Japan as a pioneer of the times while respecting history and tradition. Their corporate message is "Work that we can be proud of for our children. We are leveraging our advanced engineering technologies and product development capabilities to expand our business both in Japan and overseas on a large scale with an eye focused on the next generation.
Sub Manager, Planning Department, Investment Development Division
Mr. Takahiro Katsumi
(center)
Project Development Department, Investment Development Division
Mr. Ryo Omori
(left)
Planning Department, Investment Development Division
Mr. Kunihiko Ishii
(right)
For speedy acquisition and utilization of valuable information. Innovation with REMETIS is progressing in the real estate business. Shimizu Corporation, one of Japan's leading general construction companies, is also realizing the full potential of REMETIS. In this issue, we interviewed three people who support the company's investment and development division, and asked them about the benefits of REMETIS.
Problem
・The list of properties is not uniformly prepared by manual inputting of property summaries.
・It takes an enormous amount of time to collect public information and the information itself is also gentrified.
Solution
・Smooth registration of properties outline information with standardized items.
・Objective public information is speedily acquired to realize highly accurate profitability studies.
・Promotes meeting vitalization, work standardization, and paperless operation.
Please provide an overview of Shimizu Corporation's real estate business and Investment Development Division.
Katsumi
In response to the real estate recession that had long persisted since the bursting of the bubble economy, the trend toward real estate securitization began to gain momentum again at the beginning of the 21st century. Seizing this trend as an opportunity, the Investment Development Division was launched in 2002. The Investment & Development Division is focusing on development and construction projects in a single integrated manner, taking advantage of the technical and product planning capabilities that Shimizu Corporation has cultivated as a general construction company, as well as the integrated strength of each department through collaboration.
Ishii
This division's work will include the study of land acquisition on the premise that we will design and construct the project, the preparation of drawings by the design division, and the study of income and expenditures based on estimates by the construction division.If it is determined that the land has business potential, we will purchase or lease the land and proceed with high value-added development and operation based on the backbone of the Group's comprehensive capabilities.
Katsumi
In the future, we plan to aggressively promote a wide range of real estate development, mainly offices, but also logistics facilities, hotels, and residences, while making maximum use of our technological and engineering capabilities such as BCP and energy conservation.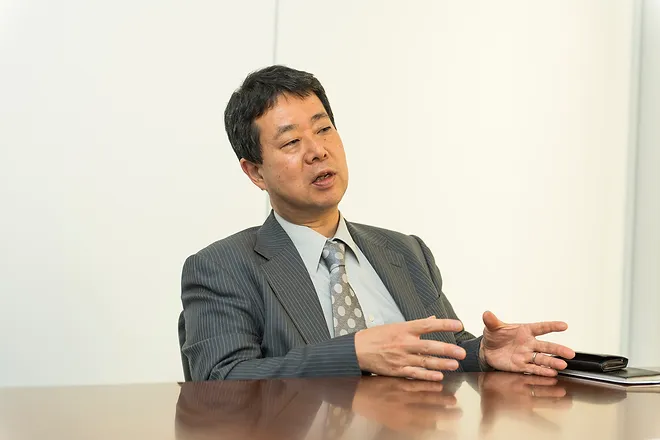 What challenges did you face in collecting and managing information before implementing REMETIS?
Katsumi
How do you acquire information to consider land? While there are various styles depending on the company, in the case of our division, in addition to acquiring external information via brokerage firms, etc., our main model case is to acquire information by utilizing the sales network cultivated over 200 years in our core business, and to create projects based on this information. In some cases, information from the civil engineering department involved in the development of land readjustment projects serves as the starting point for the development of logistics facilities. We also place great importance on internal networks, and we are in constant communication with our sales staff to share information closely at the upstream stage. However, there was a major issue here.
Ishii
The question is, "In the end, how do we share and manage the vast amount of data thus gathered? In the past, property summaries obtained from information obtained through sales channels and other sources were manually input into Excel lists one by one by the person in charge of the Planning Department, who was in charge of information management. The list was then printed out on paper and shared at a regular weekly meeting. However, this method resulted in variations in the content and amount of information entered by each person in charge. Some sheets had even the land owner's name filled in, while others were limited to superficial information. In many cases, the method of entering the name of the project was not standardized, so it was difficult to quickly determine which area the property was in without carefully unpacking the documents. In addition, the management of property summaries was also inconvenient because the original one week's worth of property summaries was saved as a single PDF file, making it difficult to quickly refer to the information that one wanted to view. Another issue that has plagued us since entering the feasibility study phase is the collection of publicly available information. This information is essential for determining a property's potential profitability, such as yield and development examples, but some of the information could not be gathered on the Web, and it was very time-consuming and costly to collect it.
Omori
If we cannot find the information we want on the Web, we look for a real estate agent or brokerage firm that we believe has the information, or pay a consultant to provide the information. In the end, however, we sometimes gave up on gathering information because we could not find anyone who knew much about the subject or because of the high cost of consultants.
Why did you decide to implement REMETIS to solve your problems?
Ishii
Initially, we were thinking of shifting from Excel-based management to map-based management. At the time we were considering various systems for this purpose. The Next Generation Research Center, where our venture investment department is located, told us about a service called REMETIS, which led us to consider it. The first thing that I intuitively found useful was the fact that it automatically reads PDFs of property summaries and converts them into data. This would solve the problems of time-consuming Excel management and variations in information input by the person in charge.

Also, compared to other companies' services, the functions and registration items are narrowed down, giving the impression of being very easy to use. It seems to fit our actual business better than systems that comprehensively manage detailed information from 1 to 10. Another attractive feature of REMETIS is that it provides support for the collection of public notice information in a single service. It was a two birds with one stone service for us, as we were able to manage information and solve the problem of information collection all at once.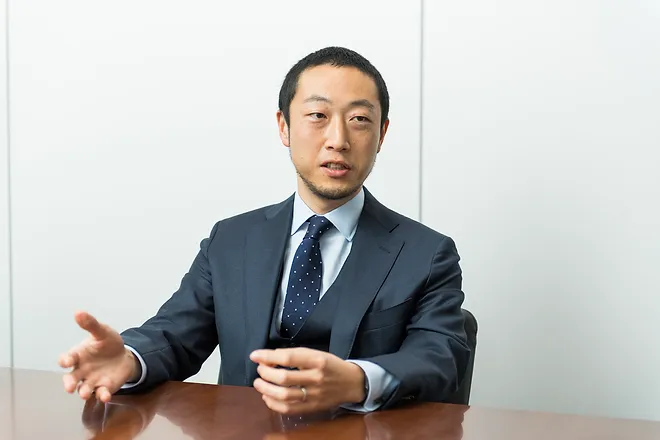 What changes have you seen in your existing business since you have actually used REMETIS?
Omori
The speed and accuracy of the initial study, which determines the business feasibility of a project, has dramatically improved, and I believe this is a major achievement. The first step in determining business feasibility is to make a business balance sheet, but it is important to have solid information when looking at the initial investment to determine whether the land cost is appropriate and whether the price the seller is asking is fair in light of transaction examples. In such cases, REMETIS can be used to quickly confirm solid information. In addition to rents, there is no need to rely on information such as yields, land prices, and development cases, which have been difficult to collect and highly impersonal. When drawing up a scenario for the sale stage, it is also easier to formulate a strategy by looking at case studies of transactions. I am very grateful to be able to quickly and accurately draw up such a scenario at the initial stage.
Ishii
The quality of our regular weekly meetings has also improved. Information from the property summary can be easily registered at any time, and furthermore, it can be viewed at the pre-meeting stage from a PC or tablet, allowing participants to prepare in advance, arrive at the meeting with more time to spare, and have more content-rich discussions.
Omori
The Project Development Department to which I belong has become basically paperless since the introduction of REMETIS. Members routinely look at a list of data in REMETIS and have conversations with each other. I think it has had the effect of bringing people who used to stick to the analog way of doing things closer to the digital way.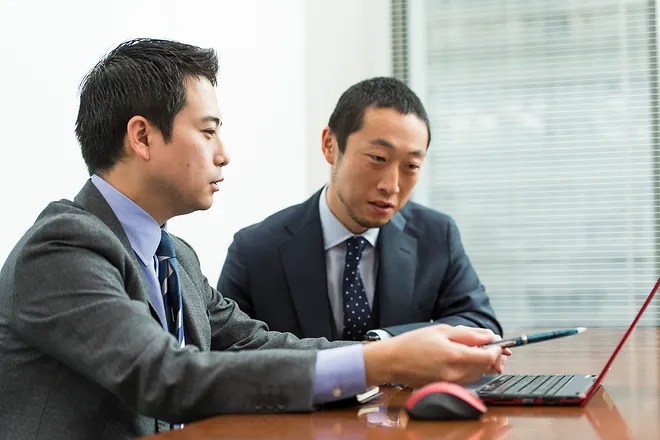 What are your expectations for REMETIS in the future?
Ishii
Related to what I just said, real estate has been lagging behind in digitalization, information has been impersonal, and it has been difficult to get rid of the culture of using a lot of paper for some reason. I believe that the key word to promote digitalization is "standardization," and that it is important to unify not only the format of reports and other documents, but also the standards and flow of work. In that sense, I expect that REMETIS will be a tool that will open the door to standardization not only for this division but also for our company as a whole. Moreover, I believe that REMETIS will further support our business in the future as a tool that supports highly accurate investments based on objective, not subjective, information.
Omori
In promoting our business, we still want to ensure the superiority of our product planning. I would be happy if REMETIS could acquire information that would be useful for properties to be equipped with features appropriate to the area. On the other hand, I am also in the process of devising my own method of using REMETIS and experimenting with more convenient ways of using it. My recommendation is to link with aerial photos. Copy the address from the data list, place it on the aerial photo, and rotate it around to check the road conditions, sun exposure, etc., while discussing the evaluation of the property with other staff members. It makes it easy to have a quick chat about work and I would like to continue to draw out the potential of REMETIS by devising various ways of using it.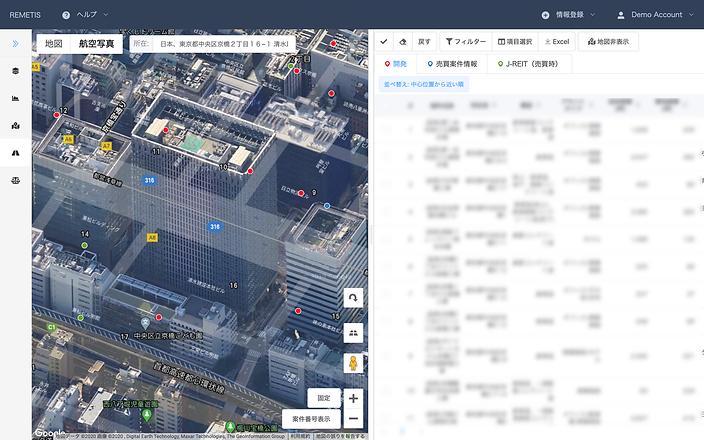 With REMETIS, you can easily check aerial photos.